Welcome to Christ Our Savior Catholic Parish
Next Sunday – Próximo Domingo
November  / Noviembre 10, 2019
Thirty-Second Sunday in Ordinary Time
XXXII Domingo Ordinario
"The Lord is the guide of the living."
"El Señor es el Dios de los vivos."
Cristo Nuestra Fundacion – Nuestra Esperanza – Nuestra Salvacion
Christ Our Foundation – Christ Our Hope – Christ Our Savior
Mass Schedule
Vigil Masses on Saturday
5:00 pm – English
7:00 pm – Spanish
Sunday Masses
8:30 AM – English
10:30 AM – Spanish
12:30 PM – Spanish
2:30 PM – Vietnamese
5:00 PM – English
Weekly Masses
Mon, Wed, Fri and Sat
8:00 AM – English
(Mass is preceded by Morning Prayer at 7:45 AM)
Tuesday
5:30 PM – English
(Mass is preceded by Evening Prayer at 5:15PM)
First Friday of the Month
7:00 PM – Spanish
Events & Announcements
Adoration of the Blessed Sacrament / Adoración del Santísimo Sacramento
You are invited to spend some time with the presence of the Blessed Sacrament every first Friday of the month. Our day of worship begins after the 8:00 am Mass in English and continues throughout the day, concluding with the 7:00 pm Mass in Spanish.
Estan invitados a compartir de su tiempo en la presencia del Santísimo Sacramento cada primer viernes del mes. Nuestro día de adoración empieza después de la Misa de 8:00 am y continua a través del día. Concluye con la Misa de 7:00 pm en español.
Class for Infant Baptisms / Classes para los bautizos de Infantes
Classes are held the first Thursday of the month at 7:00 pm. Please register for class calling the Parish Office at 714 444-1500.
Las clases son el primer jueves del mes a las 7:00 pm. Por favor registrese para las classes llamando al 714 444-1500.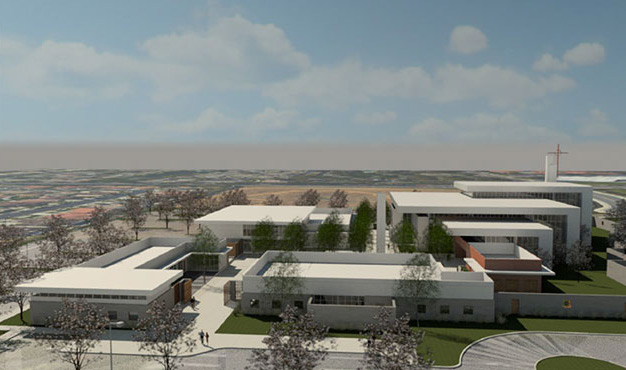 Our Building Project to construct the new Church buildings has certainly brought some surprises both pleasant and challenging. With the sale of the property, the parish will receive 15.85 million dollars that will be used to primarily fund the construction of the Church buildings. The goal is to build three of our four parish buildings at the same time, however much of that will depend upon how much we are able to raise and how much it will ultimately cost.
With the success of our parish Capital Campaign, we have already collected 1 million dollars with about 2 million dollars pledged for the project. With other fundraisers and the building fund that we collected as a second collection before we started the Capital Campaign, we will have collected about 18 million dollars in total (including the capital campaign).
Christ Our Savior Catholic Parish
2000 West Alton Avenue
Santa Ana, CA 92704
Telephone: (714) 444-1500